Description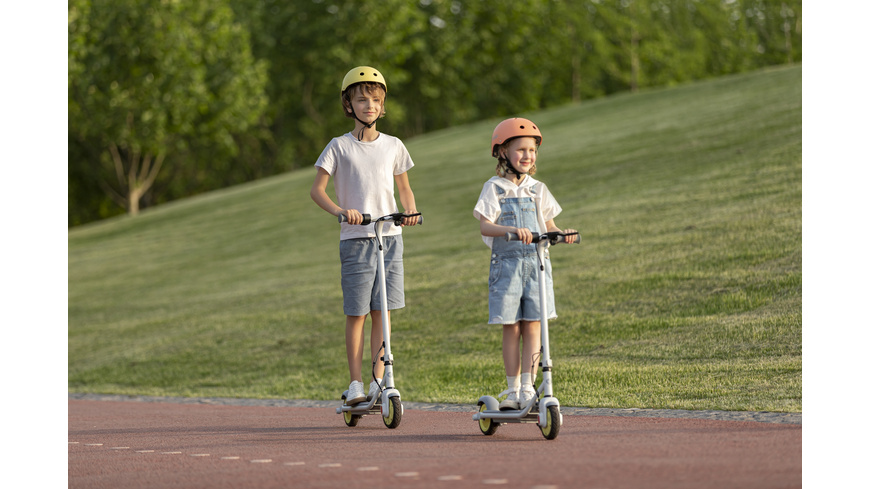 Let the fun begins with the eKickScooter ZING!
Here is what your child has been waiting for: the two Ninebot eKickScooters ZING C8 and ZING C10 Powered by Segway! A fresh new design with a lovely colour scheme (light grey and catchy yellow), 3 riding modes to adapt to each child's level, a lightweight body but most of all, up to 10 km of pure fun!
Different age/height, different eKickScooter
We have thought about all girls and boys who wished to have their own eKickScooter:
– kids from 6-12 years old and with a height of between 115-145 cm can ride the ZING C8.
– kids from 8-14 years old and with a height of between 130-160 cm can ride the ZING C10.
3 riding modes for every kid's level
– Safe Mode, slowly but surely
With a max. speed up to 10 km/h (6.2 mph), Safe mode is perfect for beginners. They can accelerate by pressing the throttle lightly (the light indicator blinks fast).
– Turbo Mode, for a new adventure!
For more adventurous kids, the Turbo mode can speed up to approx. 16 km/h by pressing the throttle and they can enjoy riding effortlessly (the light indicator is continuously on).
– Cruise Mode, kick and go!
Thanks to the power assist mode, kids just need to simply kick to accelerate up to 16 km/h (the light indicator blinks slowly).
Easy hand-operated brake: stay safe all the times
The Ninebot eKickScooters ZING C8 and ZING C10 are both equipped with a high-performance handbrake system which also has the EBS energy recovery brake function. The sensor detects the eKickScooter in real time and quickly cuts off the power output, allowing the kid to brake more easily and brake more timely. Your child's safety is our priority!
Double tube frame design: strong and durable
The frame is made of high toughness steel, with a triangle structure, which brings high durability and resistance to the product. The kid will have good stability on the footboard and will ride with confidence.
In addition, both eKickScooters are IPX4 rated which means they are resistant to water splashes.
High-performance and Compact Battery Design
The battery pack integrates the lithium-ion battery, controller, and smart BMS (Battery Management System) into one compact module which is situated in the footboard to lower the centre of gravity: this gives more stability to kids to ride.
With a single charge of approx. 2,5 hours, both the ZING C8 and ZING C10 can last up to 10 km (6.2 miles) which offer a lot of moment of fun!
Try out the ambient lights with the ZING C10!
Only available on the eKickScooter ZING C10 and depending on the riding modes, the kid will ride in style with ambient lights located under the footboard:
– in Safe mode, the lights will turn red;
– in Cruise mode, the lights will turn blue;
– and in Turbo mode, the lights will be multi-colour!
Technical features
SPECIFICATIONS
Maximum Speed : 16 km/h
Mileage on one charge : 10km
Battery Capacity : 2.5 Ah
Charging time : 2.5 Hours
Engine Power : 120 watts
Recommended age: 8-14 years old